Using Statuses
You can assign a status to sold items to help you keep track of them. There are four statuses to reflect the various stages of the post-auction process: email sent, payment received, goods shipped and sale completed. You can also clear a status from this menu.
Click on the 'Add status' link under a listing in the Sold section of My Trade Me and a drop-down menu will display.
Select a status and you're good to go.
An example of adding a status to a listing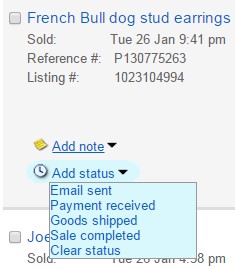 You can assign statuses to multiple items by using the tick boxes and the 'Add Status' button.
Use the filters at the top right hand corner to display only those items with a particular status - for example: only items where payment has been received.