Creating products
You can create products yourself, import them from a file, or you can import them from your current, sold or unsold listings.
Create products yourself
You can create your products yourself from the Product list screen.
Select the Create a new product button. From here you can work your way through adding the information needed to create your product.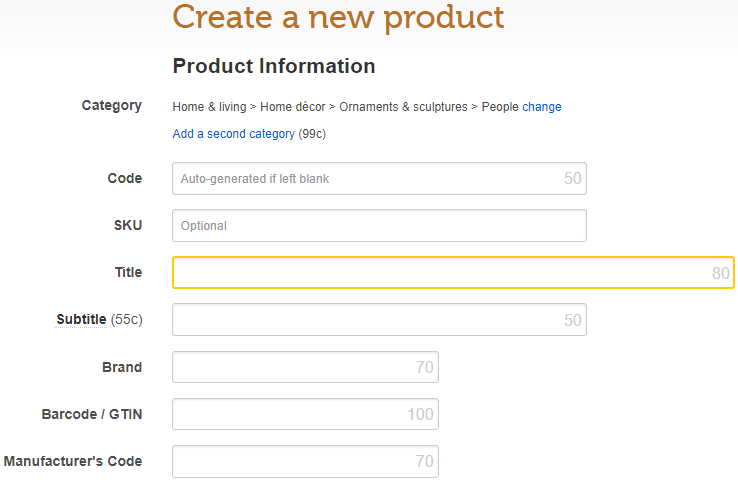 The mandatory fields, like Title are highlighted with a subtle border. Fields like the Title, Subtitle and Description all have reducing character counters, to help ensure you don't exceed the maximum number of characters for the field.
Category
The first time you create a product, you will need to select a category. After this, the category from the last product to be viewed will be the default each time you create a new product.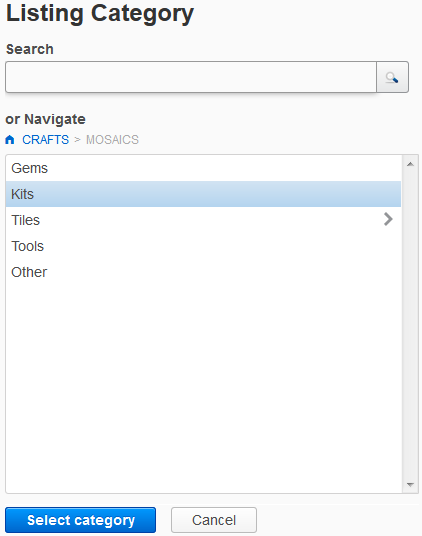 You can use the Search field to quickly find a category. Alternatively, you can drill down to a category by selecting the Navigate links. Selecting the Home icon will take you to the start of the category search.
If you intend to use Trade Me's DVD/Blu-ray catalogue to auto-populate much of the content for the product and the listing then once you are in Listing Category, search for either:
DVDs and select the /Movies-TV/DVDs option
Bluray and select the /Movies-TV/Bluray option.
Product Information
Here you get to create a product code and SKU. If you leave the code blank, Trade Me will auto-generate a code for you.
The Title is mandatory and opting to bold it will incur a fee each time you list the product. Select the Bold Title checkbox if you want this option. Note that Bold is not available for some categories. Subtitle is optional and also incurs a fee.
Folder allows you to tag or label your products. You can only have one folder per product. Any folders that you have previously created will be available in the dropdown, otherwise use the Edit folders link to add or rename folders.
You cannot create a folder named Uncategorised, since this is a reserved name and it is used elsewhere to find the products that are not assigned to a folder.
Inventory
If you aren't interested in tracking your stock levels, then Unlimited Stock may be your preferred option.
If you are keen to track your stock then you should select Specify stock and insert a stock level value. If you don't have any stock then you can enter a stock level of zero. Decimal quantities are fine, but any listings made on Trade Me will only be for whole number quantities.
Whenever your product listing sells the stock quantity will automatically decrease.

If you are a Stores Extra, then you will also be able to mark products as clearance items. These will appear in your Trade Me store in the Clearance filter.
Listing duration
For general categories the standard durations are 2, 3, 4, 5, 6, 7 and 10 days. 10 day listings incur a fee.
You can also opt to nominate a time that the listing should close. This should be in 24 hour format eg. 8:35pm = 20:35. Some web browsers can handle the 12 hour format as long as you specify whether it is am/pm. Having a scheduled end time is free for My Products users.
Note: it is not possible to have a 10 day duration with a specific end time.
Product/Listing description
Listing descriptions can be up to 2,048 characters. This includes the listing footer if you have one.
You can choose to include a description footer to every product listing, as well as configure each product to individually include or exclude the footer.
If you want to insert some common symbols then you can use the 'Alt' key in combination with the following numbers to insert them:
© Copyright is Alt + 184
• Bullet point is Alt + 0149
½ Half is Alt + 171
Ø Diameter is Alt + 0216
° Degrees is Alt + 248
If the item is new and you have the manuals (if applicable), then select the Brand new checkbox.
If the product category has attributes then completing as many of the fields as possible helps buyers find your products more easily. Some of these fields are mandatory and some are optional.
Pricing & Fixed price offer
If you want to offer all your stock up to a capped maximum of 1,000 or just 1 when you list, then you can opt for Sell multiple quantities. This is known as an MQL (multiple-quantity listing) and allows buyers to nibble away at the stock or purchase the remaining stock until the listing either closes or sells in full. MQLs can only be offered with a Buy Now price.
For a standard single quantity listing, you must at least specify a start price. The reserve and Buy Now prices are optional. Setting a reserve price has a fee.
You can restrict who bids on your listings by only allowing authenticated members to bid.
The Fixed price offer (FPO) option allows you to make offers to the watchers and buyers who missed out when your listing either closed or sold. You will need to set an offer price, a duration and decide whether to make the offer available to everyone who missed out or just the bidders. If you have specified a stock level and the last of your stock has been set aside for the FPO, then the product will not relist until the FPO is either accepted or it has expired.
Photos
Here you can upload new photos, re-use existing photos or delete photos. Each product is allowed up to 20 photos.
Upload can only be done from your local PC or device. If you have your photos located on the web and you have the web image URLs, then you will need to import your products to upload the photos.
If you have multiple photos then the top leftmost photo will be used as the main photo. You can drag the photos around to re-order them.
Selecting the photo will display a larger view of the photo and some key information. Hitting the Edit button will display a photo editor where you can crop, rotate and enhance your photo. Because the photo editor updates online, there may be a minor delay when your changes are being made. Any editing updates will overwrite your current photo and cannot be reversed. You can also access the photo editor by selecting the pencil icon on the thumbnail version of the photo.
To delete a single photo select the X on the thumbnail version. Alternatively, to delete all photos select the Remove all photos button.
The Use existing photos button allows you to select photos to re-use from other products.
Accepted payment types
Select all the payment types that are relevant to you.
If you opt for the Other payment method, then you will need to add more information about the method in the text field.
You can opt to automatically send your payment instructions to your buyers when they win your listing. You can set up your payment instructions through your My Trade Me screen.
Shipping options
Here you get to set your preferred pick up options.
You can specify up to 10 shipping costs. Select the X to remove a shipping option.
Shipping templates allow you to configure a set of shipping costs, that you can re-use on other products.

You can add as many shipping templates as you like. Each template can only have a maximum of 10 shipping costs. When a template is edited and saved the changes are also applied to the other products that are using that shipping template. Only the live listing for the current product will be updated with the change to the shipping template, providing you opted to update the current listing when saving the product.
If you opted for an MQL type listing, then you will need to specify whether the shipping is applied to each item or to the entire order.
Extras & Listing fees
Any options that you have chosen that incur fees (bold title, subtitle or reserve etc.) will be displayed on the Extras & Listing Fees panel. You can also select more features and options to give you a better chance of selling the product, eg. Gallery and Feature Combo.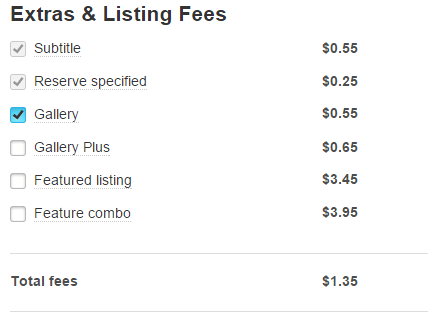 Note that you can only have Gallery or Gallery Plus if you have at least one photo assigned to the product.
Super Feature is only available in selected categories.
You can opt to donate a rounded up portion of your success fee to one of the nominated charities that Trade Me supports. For example, if your success fee was $3.69, then 31 cents ($4.00 minus $3.69) would be donated to the nominated charity.
Account balance
Here you can check your account balance, as well as the last time it was looked at. You can't credit your account from here, this must be done from your My Trade Me page.
It is not possible to credit your account from here.
Activate auto-listing
When creating a product for the first time you can opt to automatically list the product on Trade Me, as well as relist it each time it expires. By selecting Activate product your product will go live on the site.
The Deactivate product option allows you to list the product later when you are ready.
You also have the option of activating or deactivating a listing from the Products List.
Saving the product

Editing a product, presents the Duplicate button so you can quickly duplicate a product.
Importing Products
There are two ways to import your products. One is from your known listings and the other is from a file.
From the Products List select the import link.
You can import products in the My Products .csv format only. Alternatively you can import products based on your current, sold or unsold listings.
Import products from your current, sold or unsold listings
This will create products from your current, sold or unsold listings regardless of whether these are My Products listings.
From the Import products screen, select the current, sold or unsold listings link. From here you can search for the listings to target by searching for either the current, sold or unsold listings. Select the listings you want to import and turn into products.
Import products from a file
The import link on the Products List will take you to a screen where you can upload your product photos and import your product data from a CSV type file.
Check out our Import Guide for a detailed breakdown on the importing requirements. You can also download a blank csv template file. If your products already exist, then you can simply export your products to create a file to modify and re-import.
You will need to upload the photos first unless you are using website photo URLs. You can even upload more photos than you have detailed in your import file. The photos must be either a BMP, GIF, JPEG, JPG or PNG.
We recommend that your GIF and PNG images do not have any transparent areas, since the transparent areas will be coloured with a default colour.
The import file should contain the fields that are detailed in the Import Guide. The order of the fields in the import file does not matter. Most, but not all of the fields are required. Your file can be imported as many times as you like. Re-importing with updated details is a good way to make bulk changes. If the product's code is not already known, then a new product will be created. If the code is already known, then the product will be updated with the new information.
The import process is not an all or nothing outcome. When importing we will attempt to add/update as many products as we can, even when we encounter some products that fail to update. Any failures will be reported in a file that is available as a downloadable link at the end of the import. The file is also available at any time from the Last import panel of the Import screen.
You can add or update any number of products. You are not obligated to import every product every time you do an import or a re-import.