What is a MotorWeb Basic Report?
The MotorWeb Basic Report is displayed at the top of car listings, and clearly shows the vehicle isn't reported stolen, doesn't have money owing, and isn't a damaged import.
Having a safe and trusted marketplace for buying and selling vehicles is really important to us, and this report helps us continue to achieve that goal while building trust between buyers and sellers.
The report is provided by MotorWeb who get this information from the NZTA (New Zealand Transport Agency) and the MBIE (Ministry of Business, Innovation and Employment).
The MotorWeb Basic Report is able to be purchased by sellers for $9. Once a report has been run on a vehicle it can remain on the listing until sold. Reports can also be updated when a listing is relisted, extended, or at any time via the 'Promote' button for an additional fee of $9.
We recommend that sellers update their report each time a vehicle is relisted or a listing is extended. The report is valid at the time it is run, and because the details can change, an up-to-date report maintains the trust established with potential buyers.
For buyers we recommend getting a Vehicle Information Report (VIR) from MotorWeb prior to purchasing a vehicle. It's important that you know the history of the vehicle you're about to buy. If you buy a car without getting a VIR you run the risk of it being repossessed or being worth far less than you paid for it.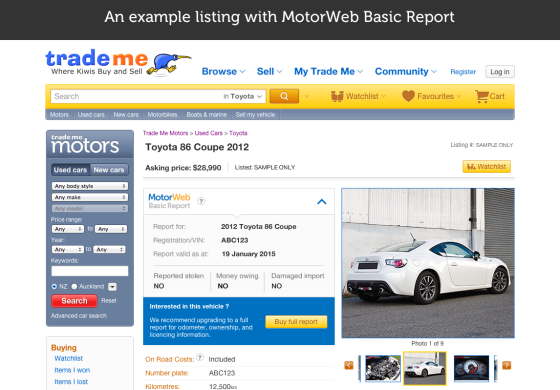 Want further assistance?
Call us on 0900 87233

Available 24/7. Calls cost $1.99 + GST per minute.

Email us your question

We aim to respond within 3-5 days.