General marketplace photo policy and guidelines
A good, clear photo of a product is an important way to attract a buyer on Trade Me. This is why we've developed a policy and guidelines for sellers to follow to help maximise their sales in Trade Me's general marketplace.



Photo policy

Your main listing photo (i.e. the image that appears in search results and first on your listing) must show the product you are selling.

Product images are the front door to your listing page. Buyers like images that show the product they're searching for.

This policy should help buyers find what they're looking for, and help with your sales.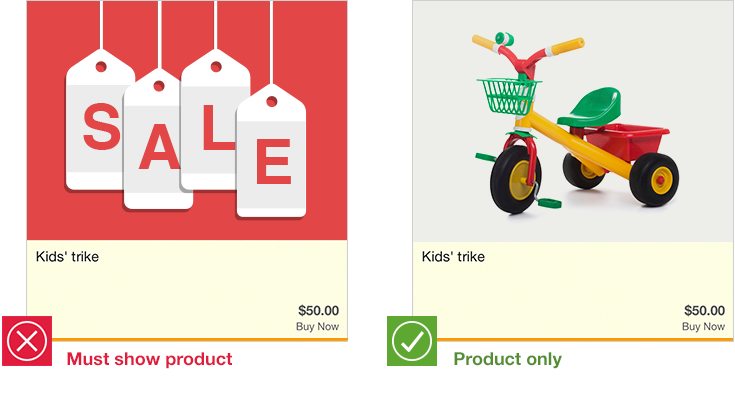 Minimum photo size

Photos need to be a minimum of 500 pixels on the longest side in order to be uploaded. The larger the photo, the better experience it is for your buyers. The idea of course is that this will result in more sales for you!

What are pixels?

The word "pixel" means a picture element and they are the smallest unit of information that makes up a picture – every photograph in digital form is made up of pixels. The more pixels you have, the more closely the photo resembles the original thing you have taken a photo of. We've recently introduced a photo zoom function and pixels are especially important for this. The more pixels you have, the clearer the zoom quality will be.

How can I check if my current photos are the right size?

If you use My Products or Tradevine, you can check the dimensions of your photos by going into the product and clicking on the photo. To the right of the photo you'll be able to see the pixel dimensions:





For any photos in your My Photos folder on Trade Me, we've built a functionality that shows the dimensions of your photos. If they meet the pixel requirements you'll see a green tick, but if they're not quite big enough we'll highlight the measurements and show a red cross. Please note, this functionality will only display on photos that have been uploaded since 1 February 2015: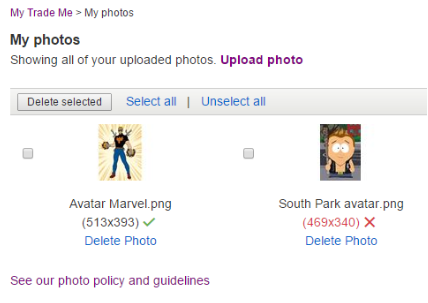 I've checked my photos and some of them aren't big enough – what do I do?

We recommend taking new photos, rather than trying to resize old ones. The main aim is to improve photo quality for buyers – if you're just making smaller photos bigger, this can dramatically affect the quality of them.

If you use a smartphone or digital camera to take the new photos they should be the perfect size.

Please don't use photos found on Google as often these won't be large enough and you may be infringing on other people's intellectual property rights - our terms and conditions require that you hold copyright over, or have permission to use, any photos uploaded.

Photo guidelines

We also encourage sellers to follow these guidelines when uploading photos of their products:
Don't superimpose information on your photos (for example: text, borders or logos). It distracts from the product.
Photos need to be at least 500 pixels on the longest side, but can be much bigger. Photos taken with a modern digital camera or mobile phone should be fine.
Photos can be up to 5 MB in file size. Big photos showcase your products in glorious detail and (on our new listing page) will allow buyers to zoom in on your product.
If you have information about your product you want to get across to buyers like sizing, or shipping information, you can put it in the listing description or shipping details of the item, rather than overlaying text onto your photos. This ensures a buyer knows exactly where to look to find all the relevant information about your products.
Small watermarks can be used to help protect your photos from being taken and used by others. Watermarks should not be used for marketing purposes, as they distract buyers from evaluating your products.
As always, we expect you to use common sense when you upload photos and not upload anything that's offensive to others. We will remove photos that we or our community don't think are appropriate.

Here are some great examples of photos we would recommend, and some we wouldn't on Trade Me's general marketplace: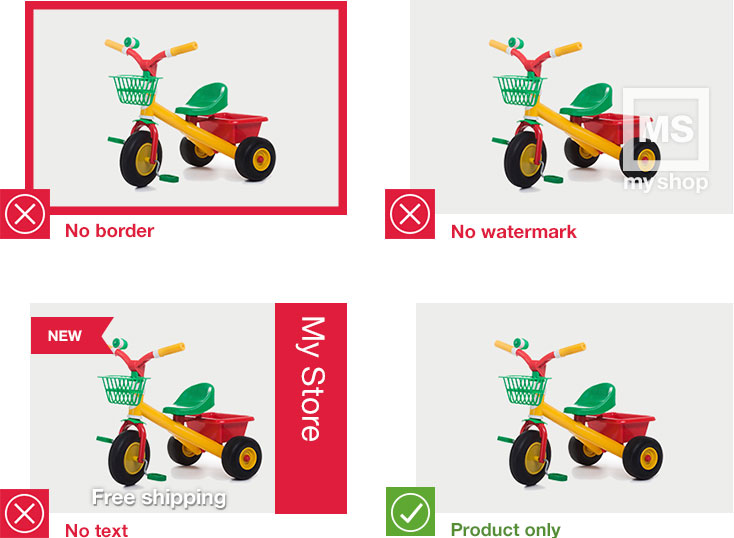 Want further assistance?
Call us on 0900 87233

Available 24/7. Calls cost $1.99 + GST per minute.

Email us your question

We aim to respond within 3-5 days.