Adding a video to your listing
You can now add a YouTube video to job ads or property listings.
Top Sellers
can also add video in Marketplace categories.
How do I add a YouTube video?
1. You can add a YouTube video from the 'Photos & video' page when creating your job ad or property listing.

2. Copy and paste your video's URL (from the address bar in your YouTube video page) into the box next to the 'Add video' button.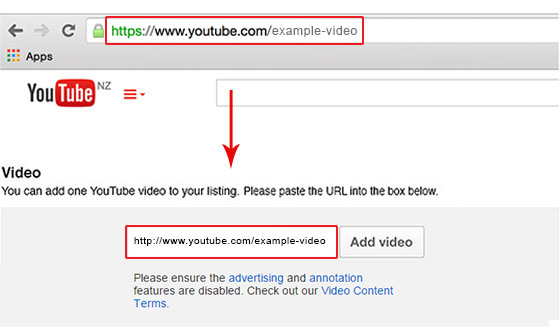 3. Click the 'Add video' button, and you will see a preview of your video.

4. Once you're happy with the video, click the 'Next' button, and complete your listing as you normally would.
If you would like help with adding your video to YouTube,
check out this help page.
Remember, you must disable ads and annotations on your video before you add it to your listing. If you're unsure of how to do this, have a look at these helpful pages below:
How do I add a video if I use a third party tool?
We've been in touch with third party providers so they can build this functionality for you. If it isn't available yet, please contact your account manager to find out how you can take advantage of video in your listings.
How do I add a video to a listing I have already created?
1. Select the option to 'Edit' your listing from the
Items I'm Selling
page. 2. On the 'Details' page, scroll down until you see the 'Videos' option.

3. Click 'change'. 4. On the 'Photos & video' page, go through the steps mentioned above to add your video.
Please see our
Job listing policies page
for full terms on adding video content to your job ad. For property listings, check out our
Property video terms and conditions
.
Where will my video appear?
Currently our desktop site, mobile site, and Android app supports videos on jobs listings. iOS apps aren't supported at the moment but we're working on it!
For property listing, only our desktop site supports video, but we're also working on changing this.
Want further assistance?
Call us on 0900 87233

Available between 6am and midnight, 7 days a week Calls cost $1.99 + GST per minute.

Email us your question

We aim to respond within 3-5 days.