Promoting discounted items on Trade Me
As part of on sale pricing, 'was/now' pricing is an effective way for professional sellers to advertise their discounted pricing, making items more visible in search results and listing details. Was/now pricing is available to all Trade Me Stores.
On the homepage in the 'Deals' stripe and on our Android and iPhone apps, buyers can also see '% off' amounts. Plus, we've added an 'on sale' filter so buyers can choose to only see items that have was/now pricing when they are browsing on desktop and mobile.

With was/now pricing, it's really important that sellers are responsible when using this feature. In the sections below, we've outlined some key things to keep in mind. If you're using discounted pricing you should:


Ensure you're not being misleading or deceptive with pricing – the price should be accurate and unambiguous.
Only use discount pricing for amounts that reflect real value for consumers.
Make sure the original price reflects the "normal price", taking into account your own sales while on Trade Me. The discounted price for was/now pricing should be accurately advertised against any previous sale prices.
Make sure discounted pricing doesn't apply for more than 28 days – reduced pricing suggests a "sale". If pricing is discounted for more than 28 days, the sale price becomes the "normal price", and continuing to show a reduced price will be misleading.
Familiarise yourself with our was/now pricing guidelines.
Table of contents
---
Information for sellers
We've got some ground rules for offering was/now pricing on Trade Me. These are in place to maintain a fair and trusted marketplace for all Trade Me members. The guiding principle is that sellers need to ensure consumers aren't misled or deceived. The Fair Trading Act covers all aspects of the promotion and sale of goods and services, and this includes pricing. Any representations a professional seller makes about price must be clear, accurate and unambiguous.
We've compiled a list of handy tips to keep in mind when discounting items, and to help you make sure you're fulfilling your obligations under The Fair Trading Act.
Quality over quantity
We want discounted listings to be the best possible experience for buyers. To maximize sale conversion rates, you'll need to ensure discounted listings aren't duplicated multiple times. If you have multiple versions of the same item available, make sure you list these as Multiple Quantity Listings.
List new items and only make these available via Buy Now pricing.
Minimum % off
Discounted prices are only going to convert to sales if they are compelling enough to buyers.
Discounts are also valued differently from category to category. For example, 5% off high-value electronics could be considered valuable by buyers, whereas 5% off a $10 t-shirt doesn't have as much appeal. The stronger your offer, the more attractive your listing will look. We reckon buyers would respond best to a minimum of 10% off. Please note, only listings with discounts of 5% or more will display '% off'.
Your obligations
When offering discounts, comparative pricing, and clearance items on Trade Me, you'll need to work within what's fair by the law, and comply with our 'was/now' pricing guidelines.
The golden rule, is any representations a business makes about price must be clear, accurate and unambiguous – this is really important.
Don't inflate your 'usual' price to exaggerate the discounts available.
You must be able to substantiate any representation you make about price (such as '% off') at the time you make it.
Guidelines for using 'was/now' pricing
The 'was' price must have previously been offered on Trade Me by the member advertising the discount. It cannot be an RRP or valuation, unless the member has previously offered the goods on Trade Me at that price.
The 'was' price must have been offered on Trade Me for a minimum of 28 days before a discounted 'now' price can be advertised.
A sale is an opportunity to buy goods at reduced prices for a limited time. Discount prices should therefore only be offered for a short period of time. Sellers must be reasonable when setting their sales periods, and we suggest that these be no more than 28 days.
Members can only offer consecutive discounts on the same item if they are further discounting the price. The previous "now" or sale price must be used as the new "was" or original price. Members can't regularly offer the same discount on an item.
New members may not have 'was/now' pricing enabled until at least 28 days have passed since their registration.
An allowance of 3% will be permitted for international marketplace sellers using 'was/now' pricing to account for currency fluctuation.
Percentage discounts
If you're advertising a percentage discount (e.g. up to 15% off all women's perfume), enough of your sale stock must be discounted at the advertised percentage discount to justify the offer.
If you're advertising a range of discounts (e.g. '5 to 15% off whiteware'), enough of your 'on sale' stock must be discounted at the highest value to justify the offer.
Special conditions
Make sure any conditions that apply to special offers are clearly disclosed upfront and any smaller text doesn't substantially change the offer.
If you have a lot of exclusions, it would be better to remove that stock for the sale period.
If we find that your sale offers change considerably from what was initially promised (i.e. stock levels drop, more conditions/exclusions apply), we will stop you from being able to offer was/now pricing.
Clearance labelling
All Trade Me Stores can advertise items as on 'clearance' in search results.
You should ensure you don't use clearance labelling in a way that could mislead or deceive buyers.
When using clearance labelling you should think about what a buyer might assume from the term 'clearance'. Buyers may assume that you want to clear all remaining stock of a particular item, and buyers may expect a lower price because of this.
Here are a couple of relevant links that you should be familiar with:
FAQs
What can I list as 'on sale' and clearance?

You can list any item that is in new condition and is available via Buy Now only.
How long can I list an item as on sale?

The Commerce Commission defines a sale as an opportunity to buy goods at reduced prices for a limited time. We suggest that a reasonable time

period for a sale is 28 days.




Also, remember that offering the same discount on consecutive listings for the same item is misleading.
What happens if I list an item as 'on sale' for longer than 28 days?

Under the Fair Trading Act, the Commerce Commission can prosecute sellers for the misrepresentation of pricing. Check out their guidelines. We'll also be keeping an eye on things to ensure discounted pricing is used appropriately. If you don't use discount pricing responsibly, we may remove your access to it.
What happens to my listings when the was/now pricing is removed or the sale ends?

Listings will relist as standard listings in most cases. If you want to discount them again, you'll need to ensure the item is further discounted, or wait until your item has been listed at the regular price for a reasonable period.
Information for sellers using Tradevine
Enabling the promotion on a listing rule
The following settings can be seen when editing a Trade Me listing rule:
Setting
Description
Mark listing as clearance item
This setting tells Trade Me that listings created by this rule are at a special price and should be marked as a special deal.
Was price
is used as a point of comparison against the Buy Now price.
This can only be specified if the listing rule is Buy Now only and it must be greater than the Buy Now price.
Promotion Code
This setting associates the listing rule with a price promotion (explained below) which is used to determine the following settings of the listing rule when it is active:

Buy Now price
Was price
Mark listing as clearance item
Price promotions
Price promotions are an easy way to apply discounts to multiple products. To view the price promotions grid, navigate to the selling channels setting.

Clicking a price promotion will bring up the edit form for that promotion.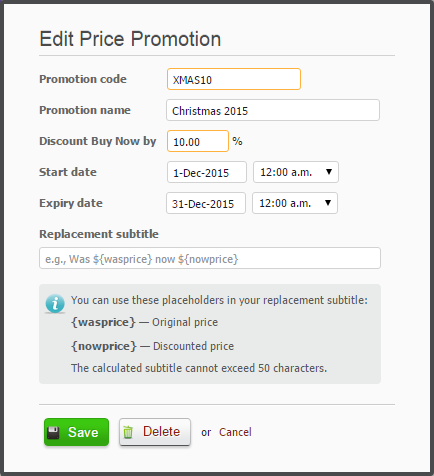 | Setting | Description |
| --- | --- |
| Promotion code | A short, unique code to identify the price promotion. |
| Promotion name | An optional descriptive name to give to the price promotion. |
| Discount Buy Now by | The percentage to reduce the Buy Now price. |
| Start date | The date at which the promotion becomes active and prices are reduced. |
| Expiry date | The date at which the promotion becomes inactive and prices are returned to their non-discounted state. |
| Replacement subtitle | The subtitle to apply to listing rules while the promotion is active. |
Listing rules grid
From the Trade Me listing rules grid, price promotions can be applied to and removed from multiple selected listing rules using the 'Apply Promotion' button.
Listings may also be filtered by price promotion and 'was' price.
Import and export
Listing rules may be imported and exported from the listing rules grid. The following columns names are used for configuring the merchandising properties of the listing rule:
Trade Me clearance item
Trade Me was price
Trade Me price promotion code
Sellers using Channel Advisor, Black Pepper or OMINS
Was/now pricing has been added to the Trade Me API. This is now available to sellers who use Channel Advisor and will be coming soon to other Trade Me integrators.
Sellers using their own API
Was/now pricing has been added to the Trade Me API and is available for you to use.
Points to note:
Was/now pricing cannot be added or updated via the desktop.
The following endpoints have been updated to include a 'was' price:

Selling Methods > List an item
Selling Methods > Edit an item
Selling Methods > Relist with edits
Selling Methods > Relist an item

% off is calculated from the 'was' price and the Buy Now price.
API details are here http://developer.trademe.co.nz/api-reference/.
Here are the potential error scenarios when listing was/now pricing:
Business rule
Error scenario
More detail
Only selected members can list deals.
Seller isn't enabled as a deals seller and they add IsClearance = true or enter a was price.
CanListClearance in the MyTradeMe/Summary endpoint indicates whether or not a seller can list clearance.
All items on sale must have a Buy Now price.
Seller enters was price and no Buy Now price.
All items on sale must be Buy Now only (this means they must have a quantity).
Seller enters a was price and no quantity.
Quantity can be 1.
If a start price is entered without quantity the start price is ignored.
Sellers using My Products
The 'Edit product' page has the option to specify a 'was' price and whether or not to mark the product as a clearance item.
Sellers can set up a promotion using the Settings screen:


Which includes: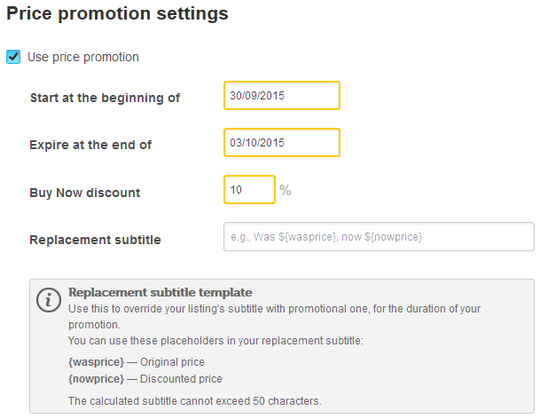 A promotion can be attached to the product (template) by editing the product.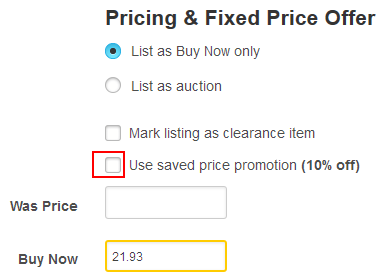 When the listing gets created the My Products tool factors in the dates and the pricing of the promotion.
Sellers can search their list of products to find the products with the promotion applied: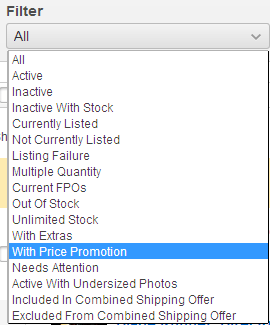 Sellers can also bulk add the promotion to products in the list of products by selecting Bulk edit, Price promotion: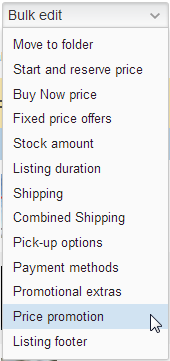 And selecting Apply promotion: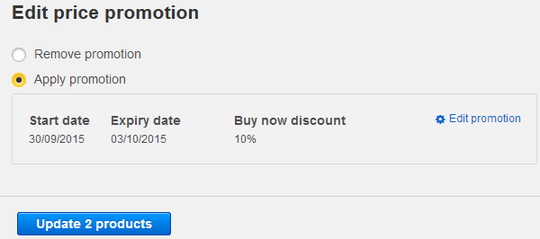 New Goods Feed
A new column is available to users of the New Goods Feed to specify the 'was' price of products. This column is called 'wasPrice' and is optional.