Select a topic >

Select a sub-topic >

Get an answer
Dealerbase – the 'dealer-only' doorway to Trade Me Motors
Since being launched in August 2003, Trade Me Motors has been New Zealand's most visited automotive internet site. Today, it has an audience of 680,000 people visiting every month to buy and sell vehicles and is recognised as the number one site for car buyers in New Zealand.
Around 50% of the vehicle listings on Trade Me Motors are supplied by dealers through
Dealerbase
. Dealerbase is a vehicle management system provided free by Trade Me Motors, which works as a stand-alone inventory system. It can also work with your existing stock system to make putting your vehicles on Trade Me Motors a simple and straight forward process.
As a Dealerbase client you can access Trade Me Motors on 0800 42 88 62 or via
email
to receive training, assistance and advice on how to make the most of your listings. Other services that Dealerbase clients enjoy include website design, development and hosting, increased exposure for your dealership, automated email responses for prospective buyers, and free reporting on stock.
Trade Me Motors has over 60,000 vehicles listed and remains the strongest supplier of services to the automotive dealer market today. With over 1,000 dealers registered as users, we look forward to continuing to develop sales solutions and provide internet-based products and services to our clients.
Call Trade Me Motors on 0800 42 88 62, or
email us
for more information.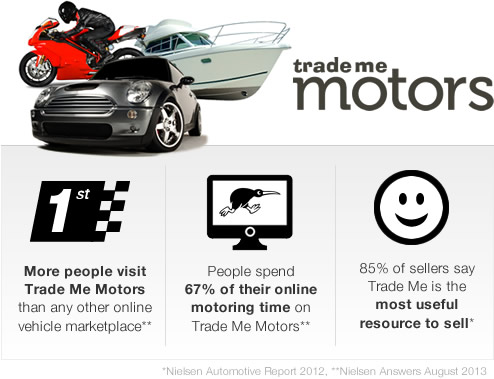 Want further assistance?
Call us on 0900 87233

Available between 6am and midnight, 7 days a week Calls cost $1.99 + GST per minute.

Email us your question

We aim to respond within 3-5 days.