Trade Me has dedicated customer support and trust & safety teams who carefully monitor and swiftly remove inappropriate listings.
You can help us keep Trade Me a safe place to buy and sell by reporting any suspicious listings.

Safe buying tips
Always read the item description carefully
If the photos and description look like they've been borrowed from another site, research the item and pricing before you bid.
Check the seller's feedback rating
If the seller is not authenticated or has no feedback (or plenty of neutral or negative feedback), you may want to reconsider bidding on/buying the item.
Review the shipping and payment details
If a price seems too good to be true, it probably is. Make sure you understand the postage costs before bidding, and never pay into an overseas bank account or via Western Union.
Beware of fake or pirated goods
Counterfeit items, such as handbags, jewellery and clothing, or unauthorised items such as copies of software, games, music or movies, are illegal and not permitted on Trade Me. If you see a listing that looks suspicious, please report it.
What to look for:
If the price of an item seems too good to be true, it probably is. Especially with popular brands.
Check the photos on the listing - does it look as it should? Does the packaging look right? Compare the details with products on the brand's own website.
Check the seller's reputation and feedback rating.
Do your homework before buying from an international seller
Buying and Selling on Trade Me is restricted to members located in New Zealand and Australia, except where a member has been specifically accepted as an 'international' seller by Trade Me.
Standard Australian sellers must accept payment to a New Zealand bank account as one of their accepted means of payment. Accepted international sellers use Pay Now only, and their seller information will reflect their overseas location (such as "USA" or "United Kingdom").
If you notice a seller is not located in New Zealand or Australia and you think they might not be an approved international seller, please let us know.
Always complete the sale on Trade Me
Contacting buyers or sellers outside of the auction process can be unsafe. Ensure you always correspond with the email address we provide once the auction's closed.
Get a phone number
If you are the winning bidder on a higher value item, ask the seller for a phone number in case you need to call them.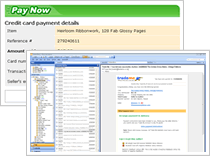 Keep all payment details and emails exchanged with the seller.
These details will help us locate the seller if things go wrong.

Examples of suspicious behaviour
If you notice any of the below examples, please contact us immediately.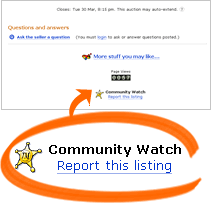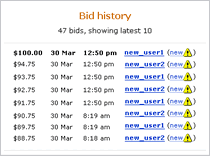 Request from the seller to bypass the auction process
Request from the seller that the buyer pay into an overseas bank account, or via funds transfer (e.g. Western Union)
Item photos and description are directly lifted from another website
Multiple memberships are created to 'bid up' the auction (known as 'shilling')
A low bid is placed, and then a second person places a much higher bid which is withdrawn at the last minute so the low bid wins (known as 'bid shielding')


Troubleshooting
Most problems are the result of either poor communication or differing expectations between the buyer and the seller.
Stay in contact with the seller and ensure you understand when to expect delivery. Sellers will typically wait for payment to clear before shipping goods, which can take a couple of days or longer on weekends and bank holidays. Delivery itself can reasonably take another 2-4 business days meaning a possibility of seven days or more between paying and receiving goods.
Frequently buyers and sellers may not be receiving one another's emails due to spam filters or email filtering. Check your junk or bulk email folders.
More on spam filters.
If you have paid and the seller isn't responding to your emails, place neutral or negative feedback on the seller saying so. This should prompt them into action and serves to warn other buyers. You can edit the feedback you place, but only once.
If you still can't contact the seller after several days, or think you are the victim of fraud, please contact us immediately.
The vast majority of problems reported to us resolve themselves through good communication and patience. So be patient, use your common sense, and happy trading.