Having a Trade Me Store creates the perfect opportunity to grow your business; Trade Me Marketplace is trusted and enables you to reach a large demographic.
For a low monthly subscription fee, you can take advantage of New Zealand's largest E-commerce market at a fraction of the cost of developing and promoting your own website.
Read on below if you're interested in creating your own Trade Me Store.
---
A low-cost way to grow your profile
Trade Me Stores provide businesses with a distinctive online presence. With a higher profile on Trade Me, you can capitalise on gaining access to New Zealand's largest online marketplace.
Promotion
The ability to add video to your listings. Video is currently available to list via desktop, My Products and Tradevine, and is also available to third party providers through the API.
You get a direct link from your Trade Me Store to your website as long as it complies with our terms and conditions.
Your contact details are displayed in the Store help section on your profile.
Was / Now on sale discount pricing.
A clearance filter.
Custom tabs for Store help & policy information.
5 optional promotional banners that link to a preferred category or keyword search results.
Your Store name is visible when using search.
Gain a stronger brand awareness.
A Trade Me web address is created to promote your Store e.g. www.trademe.co.nz/my_store/.
When the member types in their keywords we autosuggest relevant terms, categories and Stores to help them find what they're looking for. For example: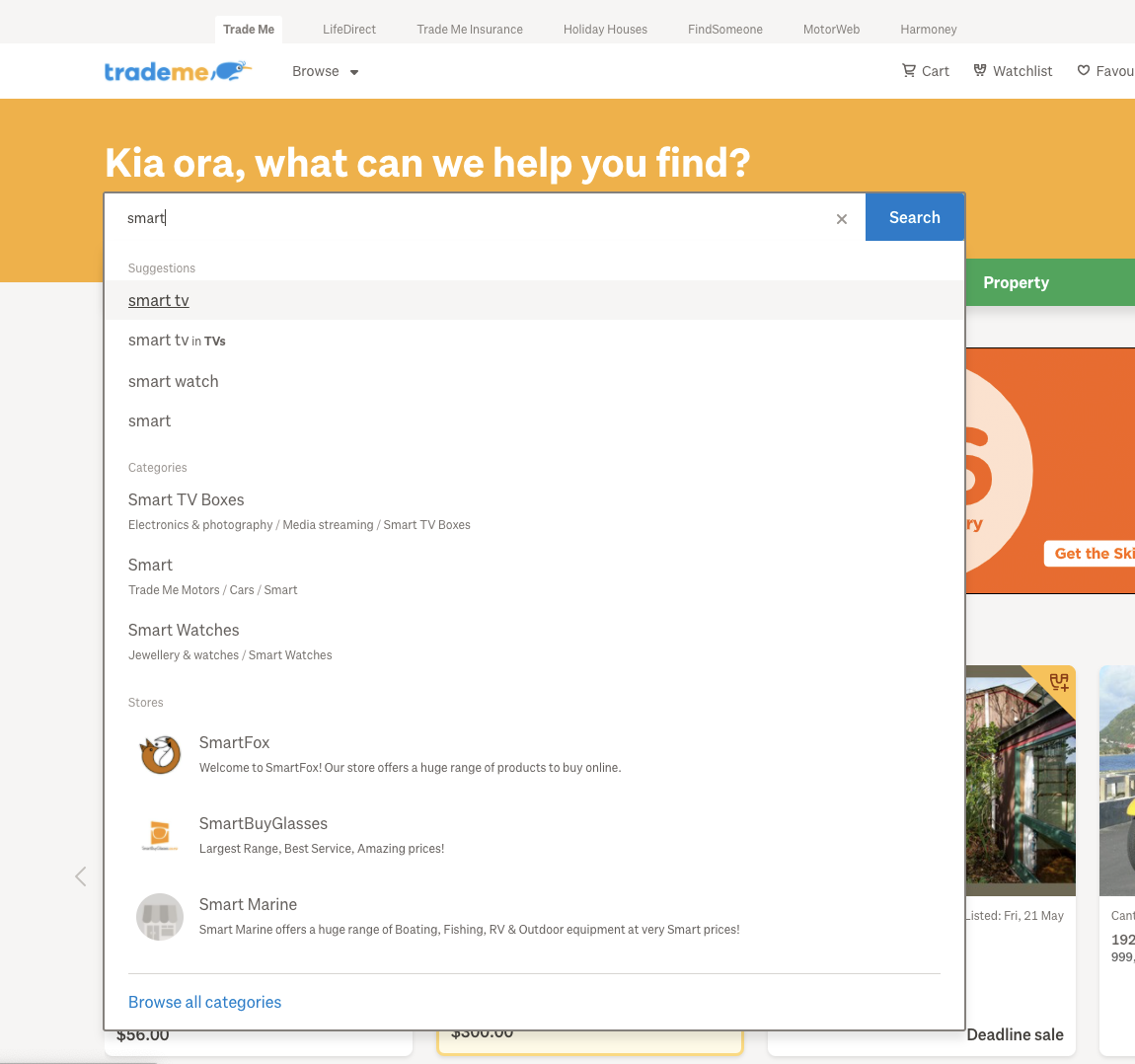 Example of a Trade Me Store on desktop and preview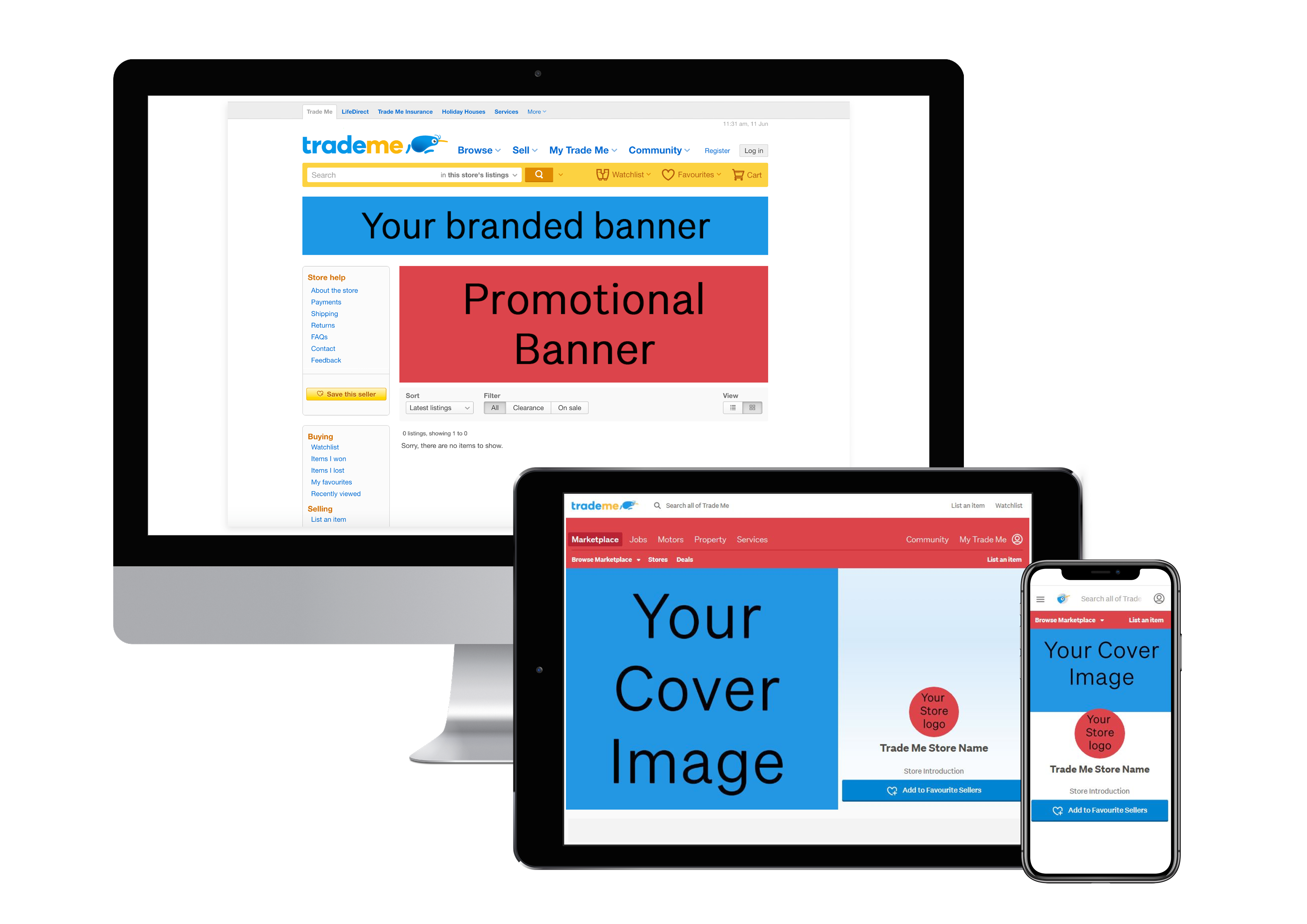 ---
Qualifying for a Store
To qualify for a Store, you must be in trade and comply with our Stores terms and conditions. For more information about in trade sellers, please visit here.
---
Costs
There is a one-off Stores set-up fee and then an on-going monthly fee. More information on costs can be found under the 'Fees' section of our Stores terms and conditions.
---
Steps to becoming a Store
If you're keen on adding a Trade Me Store to your profile, the first step is to ensure that the Stores requirements are met.
If your business is expanding and you feel that having a Trade Me Store could be a great marketing opportunity for you, then have a chat with our Stores representative and we'll discuss how your sales could benefit.
Some things you'll need to have locked in before beginning this process are:
Your company information including warranty and policies ensuring that they comply with the Consumer Guarantees Act (CGA) & Fair Trading Act (FTA) (in trade).
A logo and banner design for your Store. Unfortunately we're unable to create the logo and banner for you, but our Stores team will provide excellent support ensuring a smooth transition on to Trade Me.
Any other information that you may wish to share, e.g. about the business, Trade Me customer testimonials, or just a general greeting.
Our customers are at the heart of what we do, so it's really important to us that we maintain the quality and integrity of Trade Me Stores. If you're interested in creating a Store, get in touch with us using the form below. There will be a vetting process and a member of team will be in touch shortly after.
If there is anything further you would like to know about opening a Store on Trade Me, please feel free to get in touch. We look forward to hearing from you!
---
Want to get started or need more info?
Like to get started with your own Trade Me Store or have a burning question? Check out the Stores terms and conditions or complete the below form and we'll be in touch.
Required fields are shown with a star *