Trade Me Stores are a low cost way for a company to sell their products via e-commerce.
For a low monthly subscription fee, you can make your products available to the large Trade Me audience at a fraction of the cost of developing and promoting your own website.
If you are interested in setting up your own Trade Me store, please read the following information.
---
A low-cost way to grow your profile
Trade Me Stores provide businesses with a distinctive online presence. With a higher profile on the site you can capitalise on access to New Zealand's largest online marketplace.
Promotion
You get a direct link from your Trade Me store to your website as long as it complies with our terms and conditions.
You get your contact details displayed on your profile (but not your listings).
Stores generally obtain a greater sell-through rate on their listings due to their higher profile on the site and the trust associated with being a Trade Me store.
You get a Trade Me web address to promote e.g. www.trademe.co.nz/my_store/.
The cost to have a store on Trade Me with a company logo displayed is considerably cheaper than any banner advertising on the site.
Only Trade Me Stores will be considered for permission to offer pre-orders and On-Behalf Shipping*.
*Please refer to the pre-orders and the On-Behalf Shipping policy for more details.
Example of a Trade Me store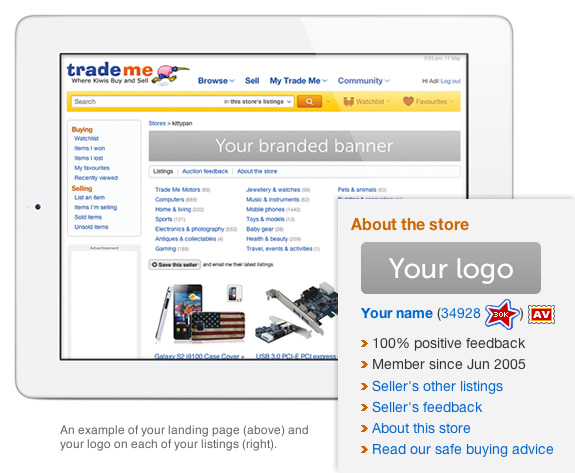 ---
Qualifying for Stores and maintaining criteria
To maintain the quality and integrity of Trade Me Stores, all businesses must meet our criteria and ensure it is upheld at all times. Check out our Trade Me Stores terms and conditions for more information.
---
Costs
There is a one-off Stores set-up fee and then an on-going monthly fee. More information on costs can be found under the 'Fees' section of our Stores terms and conditions.
---
Steps to becoming a store
Do you like what you've read so far? If you're keen on adding a Trade Me store to your profile, the first thing that you need to do is make sure that you meet the Stores requirements.
If your business is expanding and you feel that having a Trade Me store could be a great marketing opportunity for you, then have a chat with our Stores representative and we'll discuss how your sales could be benefited.
Some things you'll need to have locked in before beginning this process are:
your company information including warranty and policies
the logo and banner design for the store. We don't create the designs for you, but we will help to make them look amazing on the site
any other information that may be relevant for your customers to know about your store.
It's really important that we maintain the quality and integrity of Trade Me Stores. As such, a vetting process will take place at our end of things once you've applied. This is because what is important to us will be equally as important to your customers.
To learn more about how having a Trade Me store can help you to gain exposure as a trader and improve your customer's confidence in you as a seller, please get in touch. We look forward to hearing from you!
---
Want to get started or need more info?
Like to get started with your own Trade Me store or have a burning question? Check out the Stores terms and conditions or complete the below form and we'll be in touch.
Required fields are shown with a star *