Simplified pricing on the way
Written by The Trade Me team in
General
at 9:30am, Tue 12 Jan 2016
On 1 February we're making some changes to the pricing when you list and sell general items on Trade Me.
We're simplifying our pricing and making it easier to create high-quality listings so we can help you sell more items.
Note that there are no fee changes for listings in Motors, Property and Jobs.
What's the new pricing?
There are a few moving parts here, as set out below.
1. Simpler. We are simplifying the success fees for all sellers, and making sure we still deliver excellent value for members selling cheaper items. It will look like this:
- a flat rate success fee of 7.9% for items that sell for more than $1.00 (note the 7.9% rate has not changed)
- an unchanged maximum success fee of $149
- the removal of tiered pricing for success fees for items that sell for more than $200.
2. Free photos. You'll be able to add up to 20 photos to your listing for free. We know more photos helps showcase your items, and makes it easier for buyers to make an informed purchase. Please note that currently you can only upload a maximum of 4 photos in our mobile apps.
3. Cheaper for lower-priced items. If the sale price of your item is $1.00 or less, we won't charge a success fee. We're also removing the minimum success fee of 50c. That means that if your item sells for more than $1.00, you'll pay a flat rate success fee of 7.9% on the sale price.
What does this look like compared to the old pricing?
Here's a chart showing the success fee changes in bold: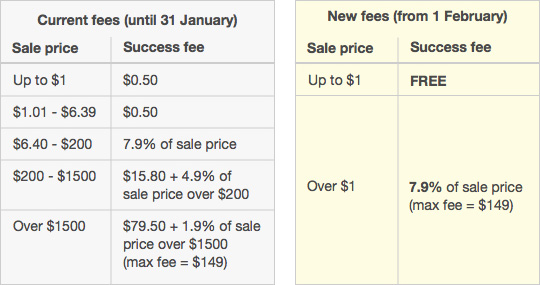 And here's a chart that sets out the "current" and "new" fees for several sale prices: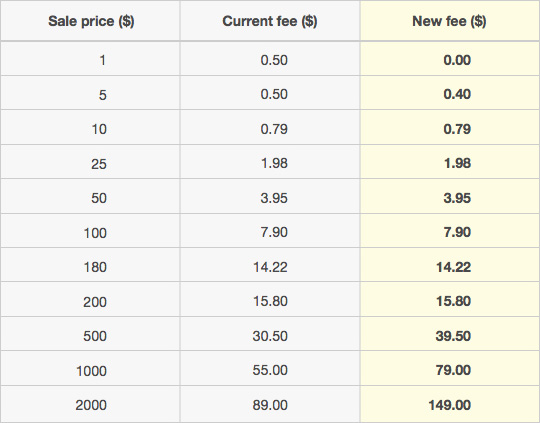 Remember, it's free to list general goods on Trade Me and you only pay a success fee if your item sells.
Sellers who list or relist an item up until 11:59 pm on 31 January will be charged the current success fees, even if the item sells on or after 1 February.